Enhance your
autumn evenings
with our Signature Series Pinot Noir
and California Series Cabernet Sauvignon
Try these wines
You won't be disappointed!
Friends with perks
Join the club!
We offer four different club tiers so there is something for everyone.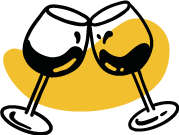 Who we are
Family-owned and proud
Our wines celebrate our passion for great wine and time spent together.
Find our wines near you
Use our store locator to find Sean Minor Wines at a retailer or restaurant near you.
Trade Resources
Find tech sheets, shelf talkers, bottle images, and everything else you could need.